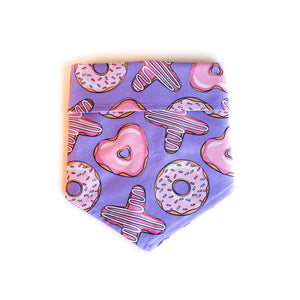 The perfect bandana for the donut lover!
🍩 This cotton fabric will leave your pup so excited to rock their Doughtique gear

🍩 Customization is available on this bandana. When adding customizations to your order, please select the correct option before adding to your cart. Customizations cannot be added after placing your order. Please be as detailed as possible in the 'Notes' section on your order form of how you want your bandana personalized (list your pet's name, instagram name, etc). If you are unsure of what you'd like customized on your bandana, please reach out to us at hello@doughtique.com prior to placing your order and we'd be happy to walk you through the process and options.

🍩 All of our bandanas are handmade with lots of love in Las Vegas. Due to the nature of handmade products, always keep in mind that every item is truly one of a kind. Patterns, design placement, sizing and coloring may differ slightly. We love the handmade touch because it makes all items, that much more unique.
🍩 Sizing

All bandana sizes are based on your pet's neck circumference. We recommend using a measuring tape to get an accurate measurement before choosing what size to go with. We offer extra small, small, medium, large and extra large. We also offer custom sizing upon request. Some breeds have lots of neck floof (like Donut, our Chief Floof Officer) and in those cases we recommend sizing up if you are unsure or don't want the bandana to create a 'squeezing' look. 
Keep in mind all of our fabrics vary in type. For example, if you order several different bandanas, a stretchy bandana may seem slightly 'smaller' to the eye but when putting it on, may have a lot of stretch to it. All Doughtique bandanas are tie-on.

extra small - fits necks up to 8 inches
small - fits necks up to 11 inches
medium - fits necks up to 15 inches
large - fits necks up to 20 inches
extra large - fits necks up to 24 inches

If you still aren't 100% sure on what size to order for your pet, please refer to our sizing guide or contact us and we'll happily help you pick the best size for your pet.  
🍩 Product Care
Each bandana is custom made, therefore we recommend hand washing or spot cleaning as needed. Feel free to contact us if you have further questions regarding a certain fabric type and how to treat it.

🍩 We love to see you & your pets rocking our gear
Tag us @Doughtique on Instagram for a chance to be featured